Roto-Static
Nettoyage de Tapis

à Cornwall

Call the Roto-Static Team for a perfect clean!

30 Years of Service

Certified Carpet Specialist

Certified Odour Removal Specialist

Certified Upholstery Specialist
Roto Static Has been proudly serving customers in Cornwall and area for over 32 years. Throughout our many years, we have built our business and pride ourselves on an unparalled dedication to customer service and outstanding results. With our combined years of experience and technical training we pride ourselves on being able to clean the toughest spots and soils and all manor of fabrics and materials. Aside from wall to wall carpet , we also provide the very best in fine area rug cleaning including wool and other specialty material rugs. Further, we specialize in upholstery cleaning of all fabrics including microfibre, leather, mattresses as well as car and boat interiors. Our exclusive fast dry process uses 90% less water than other systems while providing the very best in carpet cleaning results... Resulting in 1-2 hour dry times!
We are fully bonded and insured and look forward to providing the best results and service possible.
Profil de propriétaire:
Curt and Heather Boyko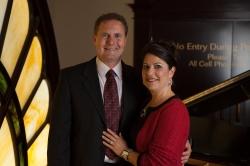 Roto Static has been serving the Cornwall area with outstanding customer service and a longstanding dedication to doing things right.
Roto Static Cornwall has received multiple awards for service and are proud to continue to offer the finest in service and results to each and every one of our clients.
Further to our regular hours, we also provide 24 hr emergency service and Saturday and Sunday appointment times upon request.
Galerie