Roto-Static
Carpet Cleaning

in St. Thomas

Not Steam or Shampoo! Get the Roto Static Team for a Perfect Clean!

15 Years of Service

Certified Carpet Specialist

Certified Odour Removal Specialist

Certified Upholstery Specialist
WHY CLEAN AIR DUCTS?
Air ducts are vital to your home or business functioning properly. They control air circulation from your cooling and heating system for year round comfort. A cleaning service helps remove dust and contaminants from your ductwork to improve your home's overall efficiency and health. Keep on reading to learn about some of the benefits of cleaning your air ducts.

CLEANER ENVIRONMENT
As the air in your house is constantly being recirculated, so is the dust. Every year, up to 10-20 lbs of dust can build-up inside your air system, with one ounce of dust containing thousands of dust mites. Reduce dust from settling on your furniture, floors, and hard to reach places. If you find yourself needing to constantly dust in order to maintain a clean home, it may be time for duct cleaning.

REDUCE ALLERGENS AND BREATHE EASIER
In our air, microorganisms and contaminants can often linger unseen. From pet dander, pollen, mildew, mould spores, and more, people who suffer from allergies or find difficult breathing will benefit enormously from a thorough cleaning. Even those who don't suffer from respiratory problems may find themselves sneezing or coughing. Everyone deserves to breathe clean air.

REMOVE ODOURS
Unpleasant smells often have a nasty habit of lingering. If you find pet odours, paint fumes, mould, tobacco, or other smells act up once the furnace or air conditioner begins running, it could be circulating in your air ducts. An in-depth cleaning can help eliminate those odour trapping particles to leave your home smelling fresh.

IMPROVE EFFICIENCY
When there is a heavy build-up of grime and dust in your air duct, your furnace and air conditioner will have to work harder to operate properly. A cleaning will allow your system to operate at top efficiency, saving you from costly bills. On average, we recommend having your system cleaned every 4-5 years. Protect your health, extend the life of your system, and reduce your monthly bills with Roto-Static Duct Cleaning Services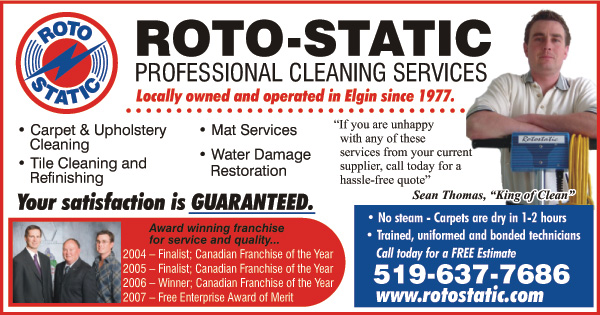 DRYER VENT CLEANING

Dryer Taking a Long Time to Dry Each Load? Many people think their dryer is just old and that's why each load takes a long time. However the truth is your dryer vent needs cleaning. Many appliance companies do not offer dryer vent cleaning simply because it's not an easy task. Dryer Vent Cleaner specializes in dryer vents and dryers, we clean the vent regardless of it's location and always show proof of a successful clean. Lint Build Up Reduces Your Dryer Efficiency & Increases Your Utility Bills To give you a general idea, a half an inch of lint build up in a four feet dryer duct can slow down and reduce the efficiency of your dryer by up to half. This will cause your dryer to overwork itself more than the usual, making it run hotter and operate harder. Your dryer will then consume more electricity as it needs more energy to function properly. Signs That You Need Your Dryer Vent Cleaning To see if your dryer vent is due for a thorough cleaning, check out the following signs and if any of these is noticeable, set an appointment for professional dryer vent cleaning:
It takes longer to dry your clothes each cycle
Lint is present on your clothes after drying
Your clothes are hotter and/or damper than usual after a standard cycle
Your laundry room is more humid or warmer while your dryer is running
The exterior of your dryer is unusually warm or hot during and after using it
Heat is not present or being generated by the dryer even if there is an airflow present
There is an excessive amount of lint at the back of your dryer and the surrounding area around the duct
There is less lint on your lint trap
Lint build-up can and will cause your dryer to operate at higher temperatures than normal which will damage the internal parts, especially the heating elements including the heat sensor safety switches. This drastically shortens the lifespan of your dryer which would require you to pay extra for repairs if the warranty does not cover the damages or to buy a new one completely. All this unnecessary expenses can be easily avoided with regular maintenance checks on your dryer and annual cleaning of your dryer vents.
Franchise Owner Profile:
Sean and Nicole Thomas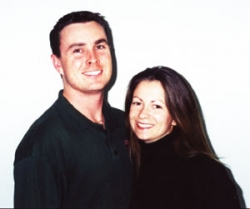 In 1996 John and Sean Thomas (father and son) purchased the Roto-Static Franchise for St.Thomas and area. This unserviced area was perfect for John who has 23 years in the carpet sales industry. Sean with training and determination started with 1-2 jobs a week. The mix between superior customer service and an unbeatable cleaning franchise they have now grown to 5 employees and a 5000 sq/ft shop. Numerous awards from Roto-Static's head office and a prestegious St.Thomas Chamber of Commerce award has proven hard work and customer care pays off. Multi services also is important such as carpet and upholstery cleaning, area rug cleaning, hard floor maintenance, water restoration, duct cleaning and a commercial mat service keeps them busy all year long.

CONNECT WITH US

Gallery